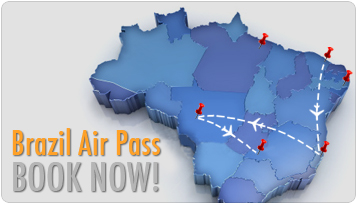 We are the internet first website dedicated exclusively to provide updated information about the Brazil Airpass offered by TAM Brazilian Airlines,  GOL Airlines and TRIP Linhas Aereas.
The Brazil Airpass is ideal for travelers visiting several cities in Brazil. It must be purchased outside of Brazil in conjunction with an international airline ticket to Brazil.
The Brazil Airpass cost is often very attractive compared to the regular fares, since you can travel anywhere in Brazil for a flat price, and also important is that the baggage allowance is the same as your international ticket.
Please keep in mind that Brazil is a very large country, and that you should plan your itinerary carefully in order to minimize travel/connection time.
Start planning your trip with the Airpass… You could visit Rio de Janeiro, Iguassu Falls, Florianopolis, Salvador, Recife, Fortaleza, Manaus, Sao Paulo, Natal, Fernando de Noronha, and many more great locations.
Book your Brazil Airpass Now